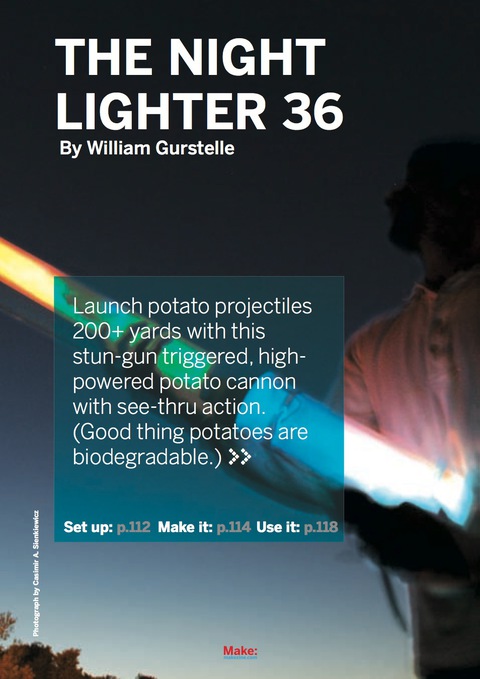 The Night Lighter 36 Spud Gun
By:

William Gurstelle
Publisher:

O'Reilly Media, Inc.
Print ISBN:

9780596808471
eText ISBN:

9781449391867
Edition:

1
Format:

Page Fidelity
Instant Access
Purchase and read your book immediately
Read Offline
Access your eTextbook anytime and anywhere
Study Tools
Built-in study tools like highlights and more
Read Aloud
Listen and follow along as Bookshelf reads to you
The potato cannon, a.k.a. the spud gun, is a popular and very entertaining amateur science project. It's simple to make, and few devices offer such bang for the buck. You can use the Night Lighter both day andnight, but when it's dark, the clear PVC provides an excellent view of the interior ballistics. Also, the stun gun gives better performance than weaker sparks from piezoelectric or flint/steel igniters. It's fun both to fire and simply to watch in action.A basic spud gun can be built with plain, white PVC for less than $25. The Night Lighter 36 costs more, but you can scrounge leftovers from plastics suppliers and build one for less than $50. After mastering basic gun construction, the intrepid potato cannoneer may want to design and assemble more complex and artistic devices.This project originally appeared on the pages of Make: Technology on Your Time Volume 03.